Quality and excellence define all ALFANET products and services, being the foundation of the company's activity and the top of its strategic orientation. Both features are acknowledged as the most essential factors that provide the competitive edge in all business activities. Therefore, the company has developed and implements a Quality System according to the international quality standard EN ISO 9001:2000. The system involves the design, development, supply, installation, maintenance, sales and distribution of Ι.Τ products as well as applications and services in the sector of computer repair and refurbishment.

QUALITY POLICY

ALFANET S.A is committed to comply with the statutory and regulatory requirements as well as with the product requirements as agreed with the customers; acknowledges and responds positively to the customer complaints by examining them and implementing corrective actions; ensures that any omissions or non- conformances are dealt with properly, in due time and in a way that the customer needs and requirements are increasingly satisfied.

To achieve this objective, ALFANET S.A has established and maintains an efficient and effective Quality System, which was planned and developed in order to monitor all management functions as reflected in the documented procedures and guidelines. The aim is to minimize the customer complaints and if possible to eliminate them.

Considerable attention is always given to the preventive actions in order to ensure that the company makes good use of the experiences and everyday monitoring which is believed that can lead to better response to the customer needs.

The Quality Policy expresses the company's culture regarding its relationship with the customers; all the company employees are obliged to be informed and act in a way that such policy is always implemented.

The company provides all the necessary resources to achieve its smooth function, and designates Quality targets that are being revised in regular intervals. The company is committed to continuously optimize the effectiveness of its Quality System.

ADISA
ALFANET S.A are certified by ADISA, the Asset Disposal and Information Security Alliance.
The primary ADISA objective is to highlight the IT security risk within the asset disposal process and to work with all parties to help improve service quality, raise professionalism and ensure data is protected by an acceptable sanitisation process.
MICROSOFT AUTHORIZED REFURBISHER
Alfanet S.A. is a Microsoft® Authorized Refurbisher (MAR) which means that we are certified by Microsoft to install a genuine licensed Microsoft software on any refurbished computer that is to be remarketed to our customers. This eliminates the risk of buying used computers without authentic operating systems. Also as a Microsoft® Authorized Refurbisher (MAR), Alfanet S.A. is permitted to affix a genuine Windows 7 Certificate of Authenticity (COA) label on each of the hardware it remarkets, a fact that adds a greater value to each unit sold.


ISO 9001:2008
Alfanet is an ISO 9001 certified company and we follow all ISO certified procedures when it comes to quality assurance to provide customers with the best quality of products produced in our warehouse facilities.
We strive to constantly meet and exceed our customer's expectations in product quality and service. We promote high levels of integrity that provide a superior level of respect within our industry. With a reputation for leadership and superior product quality we are capable of continuous improvement through our established team of committed, qualified employees who achieve quality objectives through motivation and personal success.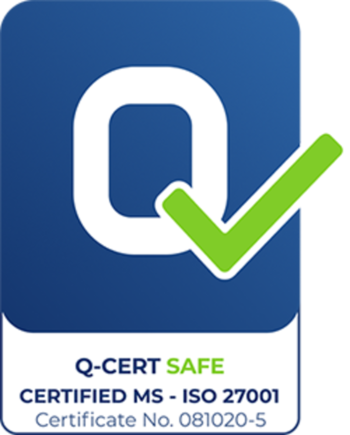 ISO 27001
ISO 27001 is the standard that defines the requirements of an Information Security Management System and helps an organization adequately manage and protect the information and data of all stakeholders related to its activities. Alfanet S.A. is certified according to the above standard in the area of: " ITAD Services, Secure Erasure and Destruction of Confidential and Sensitive Data and Remarketing of Disposed IT and Telecom Equipment"
WASTE CARRIERS LICENSE
Alfanet is licenced by the Environment Agency of Greece to transport hazardous and non-hazardous IT and electrical waste. A Waste Carrier's License must be held by anyone transferring or collecting waste, under the terms of the Environmental Protection Act 1990.